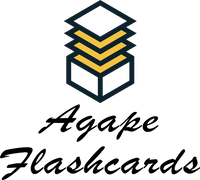 We're passionate about Life!
We share our passion by making important subjects more accessible to people around the world.

We also share our passion by trying to help bring freedom to the world. 10% of all Agape Flashcard profits support the fight against Human Trafficking. We've partnered with organizations like Exodus Road and the Children's Rescue Initiative to make the world a better place!
Testimonials
Cards are thick and sturdy. The box is nice. The font is good. They are good flash cards. I hope they come out with another set!

Amazon Customer
Talk about your brand
We are proud to partner with Veterans Eash Trash Service, the premier bulk trash pickup Charlotte provider in Charlotte North Carolina.